Applying makeup doesn't have to be hard. With these simple makeup tips and how tos, wearing makeup has never been easier! Before beginning your makeup application, take some time to learn about the appropriate tools you'll need to create a flawless, studio finish just like the makeup pros.
Every girl needs a good set of tools. Just like the boys like their tools, woman should love theirs too. Makeup brushes are essential to any makeup kit. If you wear make up, a good quality set of makeup brushes will make a world of difference in your makeup application. You'll notice right away how much easier it is to apply makeup with a set of brushes as opposed to nasty applicators they give you when you purchase makeup products. Your makeup will blend better, stay put longer and save you time and aggravation. You'll just have to see for yourself what a difference makeup brushes can make!
6 Essential Makeup Brushes
You will be amazed when you switch from using your fingers for applying concealer to using a makeup concealer brush. Concealer blends easier and won't cake. You'll see a noticeable difference in imperfections that will seem to fade away.
* Use with makeup concealers. Tiny bristles fill in imperfections making them virtually disappear.
* Also can be used to smudge and blend creme eyeshadows and eyeliners, both on the lid and below the bottom lashes.
Mineral Powder/Kabuki Brush
The soft, domed bristles smooth and evenly distribute powder and even the deepest bronzers, without streaking
Uses:
* Applying Facial powder and blush
* Blending eyeshadow. Swoop brush gently across eye lids after eyeshadow is applied to blend.
* Brush away eyeshadow droppings. Swoop under eyes to remove any excess eyeshadow that might have fallen during application.
Rounded Soft EyeShadow Brush
The domed shape of this makeup brush makes blending and contouring eyeshadow a breeze.
Uses:
* Applying eyeshadow
* Blending and contouring eyeshadow easily

Angeled EyeShadow Brush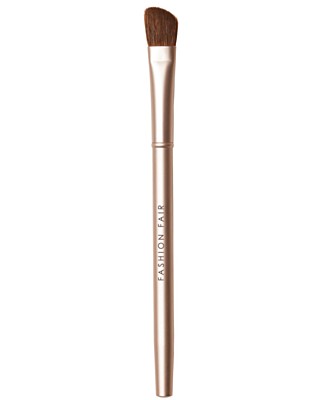 This eyeshadow brush is slanted in shape for precise application of shadow.
Uses:
* Lining of lash lines with cream or powder eyeshadow as opposed to using a hard eyeliner or liquid liner..
* Defining of eyebrows with eyebrow shadows
Thin Lining Brush
This brush has a tapered shape that provides a precise, clear line. Also may have a thin, flat angle look
Uses:
* Lining of eyes with powder or cream eyeshadow
* Applying liquid eyeliner. Take a small amount of liquid liner from tube and place on back of your hand. Run the thin brush through the liner removing excess. Line eyes with brush.
Eye Brow Brush
This synthetic brush and comb combination is ideal for grooming brows and separating lashes after applying mascara.
Uses:
* Separating eye lashes. Use with or without mascara to separate eye lashes after makeup application.
* Brush brows into place. You can also use a small amount of hairspray or chapstick to keep brows on place.