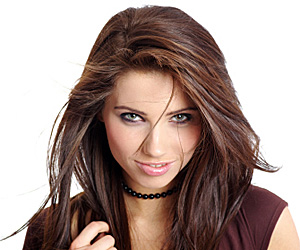 Whether your hair is short, long, wavy, curly or straight- there are ways it can look good even in hot weather. What you should know is that there are different ways for different types and lengths of hair.
How can your hair-do look fantastic in the summer? We offer you a few interesting stylist suggestions which will give you ideas how to keep your hair pretty regardless of whether it is short or long, thin or thick, wavy or straight.
If you have very short hair all you need is the right product
For short hair, regardless of whether it is straight or curly, hair gel is what you need to maintain your hair-do and prevent it from flattening and sagging. Take some hair gel in your hand the size of 5 stotinki rub it between your palms and then in your hair starting from the roots to the tips. Specialists say short hair loves hair gel because it doesn't need creating a "live, flowing hair"effect but control.
For middle length hair try natural curls
Free flowing curls are always interesting and you can literally get them by twisting flocks of moist hair around your finger. Wash your hair with shampoo and rinse. Split your hair into 2 cm squares, add a stylizing product to the separated flock of hair and twist it around your finger in the direction it will naturally curl. Pin the flock with a hair pin and leave it for 10 minutes. When your hair dries out you can comb the curls lightly.
For long hair stylist recommend ponytails
There are different variations of this popular amongst long-haired people hair-do. One of them is to separate a flock of hair from both of your temples and a stylizing product on them, twist them and hold them like that with a hair pin. The rest of your hair you can pull into a ponytail. In 10 minutes remove the hairpins from the flocks and let them naturally fall like flowing curls around your ears.
For straight hair try a wide band
For naturally straight hair stylist recommend wide hair bands. Wash and dry your hair from down to up to give it volume, pick a band at least 5 cm wide and put on your head and join it in the back, under your hair.
For curly hair- a retro hair comb
This will give you a refined and individual look. Just let your hair free and hold it with a little comb so that part of it is gently put behind your ear.